JL Audio's best sub in an incredibly loud enclosure
The "H.O." in JL Audio's H.O. Wedge enclosed subwoofer systems stands for "High Output," and that's exactly what you'll hear and feel. High Output Wedges deliver efficient, accurate bass, with better sound quality than conventional ported and bandpass boxes. The woofer sits in a recessed baffle, part of a separate chamber within the enclosure, and the front-firing port output combines with the woofer output for extremely efficient performance. The HO110R-W7AE boasts a powerful 10" W7AE subwoofer, and JL Audio designed the enclosure as a perfect match for the sub so you can count on maximum performance.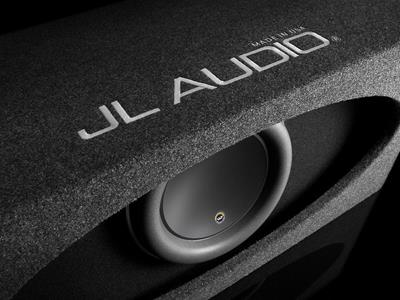 Hand finished by JL Audio
JL Audio employs advanced woodcutting machinery to fabricate these enclosures, which are finished by hand at their facility in Florida. The angled back design saves precious cargo space, while strong internal bracing and the recessed one-inch thick mounting baffle maintain the enclosure's integrity and protect the sub.
Product Features:
10" Single 3 Ohms W7 Series Subwoofer
10th Anniversary Edition
Power Handling:
Impedance: Single 3 ohms
OverRoll Surround
W-Cone
Floating-Cone Attach Method
Plateau-Reinforced Spider Attachment
Radially Cross-Drilled Pole Piece
Massive Forced-Air-Cooled Aluminum Alloy Frame
Highly Linear, DMA-Optimized Motor System
Huge Diameter, Progressive Roll Spider
Co-extruded double Lead Wires
Ultra-Long Voice Coil
Black powder-coated baskets
Bright nickel finish clamp ring
Unique Anniversary Edition badging and labeling
Sensitivity: 84 dB
Mounting Depth: 8"
Cutout Diameter: 8-3/4"
UK Internet Dealer
Full Manufacturer's Warranty
Enclosure Specifications:
H.O. (High Output) Wedge Slot-Ported Enclosure
Rear firing design
High-quality MDF construction
Delivers very high SPL
Provides a detailed and smooth response
High-grade dark gray carpet with red insert
Chamber-coupled port design
Embroidered JL Audio logo on top of enclosure
Recessed mounting baffle provides protection for the woofer
Angled back design saves cargo space
Final Impedance: 3 ohm
Weight: 96.2 lbs
Dimensions: 14"TD x 19-1/4"BD x 32"W x 15-1/4"H
More Information

| | |
| --- | --- |
| Price | £1,799.99 |
| Manufacturer | JL Audio |
| Vehicle Manufacturer | None |