Rugged components
I've installed enough car speakers to know that if you're going through the effort of taking off your door panels and creating tweeter locations, you'll want to choose a well-built speaker system that's going to live a long life in your car. Well, you've landed on the right page — this JL Audio C2-600 component speaker system is about as sturdily built and smooth-sounding as it gets for the price.
JL Audio's Evolution C2 speakers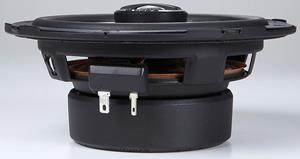 Side view of Evolution C2 speaker

JL Audio's Evolution C2 speakers bring precision sound to your vehicle. They'll reproduce subtle elements of your music like delicate woodwinds or soprano vocals, then turn on a dime to deliver the deep thrum of the bass or thunder of the drums.

Silk tweeter delivers smooth highs
The C2-600X 6" speakers feature rugged polypropylene cones that can handle high power without distortion, so you get full-bodied low tones you can really feel. The 3/4" silk dome tweeters serve up smooth-sounding high frequencies that won't tax your ears, adding a satisfying dose of realism to your soundstage. Built-in crossovers make sure your tunes play smoothly across the whole musical spectrum. JL Audio includes a pair of grilles for custom installations.
Product Features:
6" / 150 mm Coaxials
Includes Grilles
Continuous Power Handling: 60 Watts
Rec. Power Range (per channel): 15 - 100 Watts
System Efficiency: 90.5 dB @ 1W/1m
System Nominal Impedance: 4 ohm
System Frequency Response: 59 Hz - 22 KHz ± 3 dB
Woofers
Injection-molded, Mica-filled, Polypropylene Cone, Butyl Rubber Surround
1 in. Voice Coil on Kapton® Former
Flat, Symmetrical Roll Spider
Ferrite Magnet
Tweeters
0.75 in. (19 mm) Silk Dome
Ferrofluid Cooling / Damping
Neodymium Magnet
Frame Outer Diameter* (A) - 6.21 in / 158 mm
Grille Tray Outer Diameter (B) - 6.51 in / 163 mm
Magnet Outer Diameter (C) - 3.15 in / 80 mm
Frontal Coaxial Tweeter Protrusion**(D) - N/A
Frontal Grille Protrusion*** (E) - 0.91 in / 23 mm
Mounting Hole Diameter (F) - 5.00 in / 127 mm
Mounting Depth (G) - 2.38 in / 64 mm
*Does not take into account mounting tabs
**Frontal coaxial tweeter protrusion measured from the mounting surface
***Frontal grille protrusion measured from mounting surface
What's in the box:
Two 2-way speakers
2 Grilles
8 Self-tapping screws (#8 x 1-3/16")
8 Speed clips
Two Crimpable female quick slides (0.205"/5.2mm)
2 Crimpable female quick slides (0.11"/2.8mm)
2 JL Audio logo badges
Owner's Manual
Paper template
More Information

| | |
| --- | --- |
| Price | £209.99 |
| Manufacturer | JL Audio |
| Vehicle Manufacturer | None |