High-performance sub
This sub's name gets straight to the point — Focal's K2 Power E 25 KX 10" subwoofer delivers hard-hitting low end that combines realistic reproduction with competition-level sound pressure. Precision engineering and hand-assembled construction make this sub a sound choice for a high-performance bass system.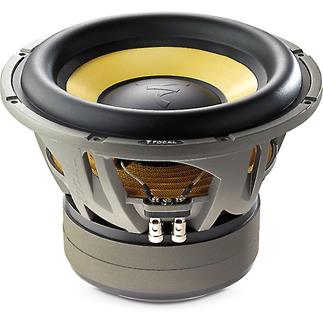 The super-rigid zinc alloy basket creates a stable platform for powerful, accurate bass.
Assembled and inspected by hand
You can feed the K2 Power E 25 KX 10" subwoofer up to 600 watts RMS without fear. This dual 4-ohm voice coil sub works best in sealed enclosures to produce bass that's highly accurate and plenty forceful. Focal assembles each sub by hand and rigorously inspects them for any flaws to ensure your investment performs to the high sonic standards they've set.
Powerful magnet
A massive two-segment magnet supplies the backbone for the sub's powerful reputation, driving the motor assembly with unerring precision. Focal anchors the K2 Power sub with a rugged zamak zinc alloy basket for dependable performance that won't get bent out of shape by your music.
3-layer cone
At the top end of the sub, a butyl rubber surround maintains control of the cone, even during deep excursion. Focal's unique composite sandwich cone employs a structural foam central core coated with a layer of Aramid fiber on the front and a glass layer on the backside. The three layers together form an incredibly rigid yet lightweight membrane for high-quality sound reproduction with an added emphasis on thunderous sound pressure.
To drive this single subwoofer, we recommend a mono amplifier rated between 450 and 900 watts RMS at 2 ohms
Product Features:
Subwoofer Diameter: 10" (250mm)
Voice coil diameter: 29/16" (65mm)
Voice coil height: 23/16" (55mm)
Motor: Magnet
Max. power: 1200W
Nom. power: 600W RMS
Sensitivity (2,83V/1m): 84.5dB
Frequency response: 25Hz - 500Hz
Impedance: dual 2x4 Ω
Warranty: 1 year
Specifications
Nominal power 600W RMS
Maximum power 1200W
Sensitivity (2.83V/1m) 87.5dB
Cone Kevlar sandwich
Surround Butyl
Nom. impedance 4+4 Ω
DC resistance 3.2+3.2 Ω
VC diameter 65mm 29⁄16"
Former Glass fiber
Layers 4
Wire CCAW
Net weight 10.6kg 23.4lbs
Driver Displacement 3l 0.1 cu.ft.
What's in the box:
10" Dual 4-ohm voice coil subwoofer
Owner's manual (English/ French/ German/ Italian/ Spanish/ Portuguese/ Dutch/ Russian)
More Information

| | |
| --- | --- |
| Price | £399.99 |
| Manufacturer | Focal |
| Vehicle Manufacturer | None |