Amplifier and DSP in one package
Two keys to unlocking great sound in a car stereo system are serious power and extensive control — and this amp's got them both. For power, AudioControl's D-6.1200 6-channel amplifier generates 125 watts RMS per channel — 200 watts per channel at 2 ohms — so it'll drive even the most demanding aftermarket speakers with plenty of headroom to spare.
Whatever the job, this amp is ready
You can also use the D-6.1200 to power a pair of 2-way components with four of its channels while delivering 400 watts RMS to a subwoofer from its 5th and 6th channels bridged together. Or, if you're into pure bass power, you can put this amp in 3-channel mode to power three subs with 400 watts RMS each, 1200 watts RMS total.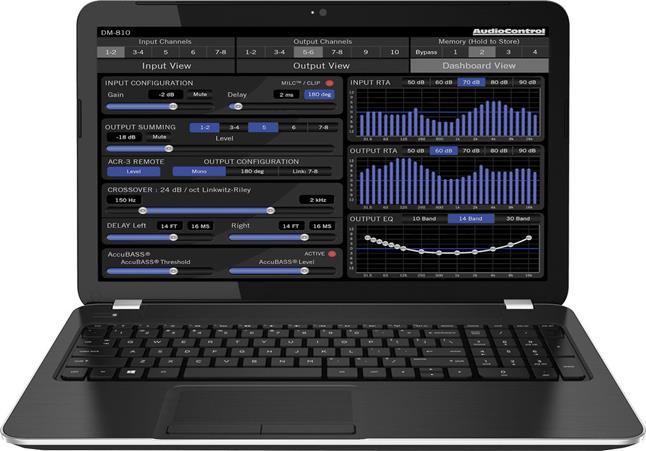 Smart-User DSP tuning software on a laptop (DM-810 version shown)
Computer-controlled digital signal processing
You won't find any knobs on the D-6.1200 — you make adjustments and save settings via your laptop (PC or Mac). AudioControl's Smart-User DSP software package includes 12 or 24 dB/octave Linkwitz-Riley crossovers, 30-band equalizers, parametric filters, time delay/alignment for inputs and outputs, phase correction, AccuBass™ bass correction, and real-time analyzers (RTA) for the inputs and outputs so you can visually confirm the improvements in the sound.
It's made to work with a factory radio
Eight active speaker-level inputs allow you to connect this amp to almost any factory system, even ones that have separate pre-filtered, time-aligned, and amplified signals going to separate factory speakers and tweeters. The D-6.1200 sums them into one smooth, unified signal for you to balance, align, and tune for your high-performance speakers. AudioControl's Great Turn On (GTO™) signal-sensing circuitry turns the amp on automatically whenever it senses an incoming signal, so you won't have to run a separate turn-on lead back to the receiver.
Convenient features
Onboard LEDs indicate optimized signal flow for inputs and outputs, plus give you a warning when a source is too loud and causing distortion. An optional ACR-3 wired remote controller lets you select sources, control levels, and recall presets from your front seat. An optional Bluetooth® adapter lets you stream music and control the digital processing wirelessly from your compatible portable device.

AudioControl D-6.1200 connection panel
Product Features:
Audiocontrol D-6.1200 D Series
Class-D FullRange 4-Ohm Stable 6-Channel Amplifier
RMS Power Rating:

4 ohms: 125 watts x 6 chan.
2 ohms: 200 watts x 6 chan.
1 ohm: ------------N/A------------
Bridged, 4 ohms: 400 watts x 3 chan.

30-Band Graphic EQ, parametric filters, phase correction
AccuBass Bass Processing
MILC (Maximum Input Level Control) LED Optimization
Octave Linkwitz-Riley Crossovers
Assignable Remote Level Control
Variable high-pass filter: 20 - 20000Hz, 24 dB/octave
Variable low-pass filter: 20 - 20000Hz, 24 dB/octave
Subsonic filter: 32 Hz , 24 dB/octave
Variable Bass Boost: 0 to +12 dB bass boost at 50 Hz
Fuse Rating: 40 A x 3
Signal to Noise Ratio: 102 dBA
Dash Remote Sold Separately: AudioControl ACR-3 REMOTE
4 gauge power and ground wiring is recommended for installation.
Dimensions: 12"W x 8"D x 2-1/8"H
Authorized Internet Dealer
1-year Manufacturer's Warranty
UK Internet Dealer
Manufacturer's Warranty
What's in the Box:
6-Channel amplifier
Three 40A ATO fuses (installed)
2 Meter (6.5') USB 2.0 cable (Type A USB on one end / Micro-B USB on other end)
2.5mm Allen wrench
Quick Start Guide
More Information

| | |
| --- | --- |
| Price | £1,149.99 |
| Manufacturer | AudioControl |
| Vehicle Manufacturer | Audi |