Alpine SPC-D84AT6 |6-Channel DSP Amplifier & Subwoofer System for Volkswagen T6.1 / T6 for original Volkswagen radios
All loudspeakers and amplifiers in the system are harmonized with one another with this digital sound enhancement. The digital 6-channel amplifier also provides an amazing sound experience for your VW Bulli T6 / T6.1. For the good sound result, our sound engineers have pre-programmed this DSP amplifier (digital signal processor) to the corresponding vehicle characteristics. The powerful amplifier always provides the required power for all loudspeakers and subwoofers. Various digital amplifier technologies, such as Class-AB and digital Class-D technology, are used in this amplifier for optimal sound on all channels.
Premium Alpine Sound System for Volkswagen Transporter 6 & Transporter 6.1

6.ch DSP Amplifier & Subwoofer Kit for Volkswagen T6.1 and T6
Upgrade your Volkswagen T6.1 or T6 with the SPC-D84AT6 high-end 6.ch DSP Amplifier & Subwoofer Kit.

This Alpine Adventure Audio system for the Volkswagen T6.1/T6 perfectly unites function with form: enjoy audiophile-grade sound quality.
The highest sound upgrade stage for the VW T6.1 / T6 delivers both dynamic sound quality and power for your vehicle. The SPC-D84AT6's 550W 6-channel DSP amplifier powers the full system and is pre-programmed to match the vehicle's acoustic characteristics. The custom subwoofer enclosure fits perfectly below the passenger seat and is also compatible with rotary seats in the T6 California
Due to the original VW connectors and usage of the original wiring harness, installation of the SPC-D84AT6 is fast and easy.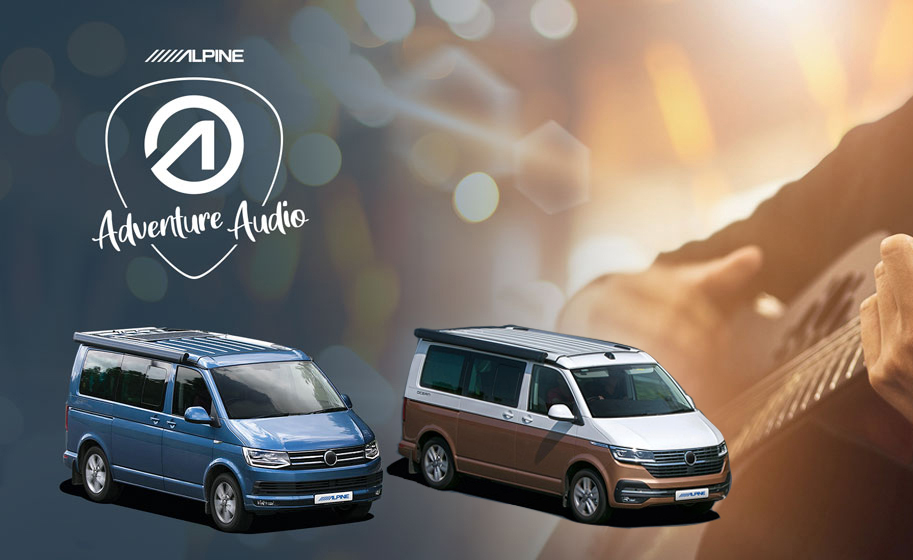 Alpine Adventure Audio - Sound Experience
The new series of Alpine Adventure Audio sound solutions for the Volkswagen T6.1 & T6 has arrived - with the listening and mobility styles of motorhome and camping van enthusiasts in mind. Specially engineered for the challenging, and often audio-unfriendly environments of these camping and utility vehicles, our systems are guaranteed to provide unmatched sonic excellence on those long drives to your destination. They are not only a joy to listen to, but also a breeze to install, and their distinctive design will spruce up any cockpit without spoiling the original cabin cosmetics. Make your road trips as exhilarating as your activities upon arrival with an Alpine Adventure Audio system!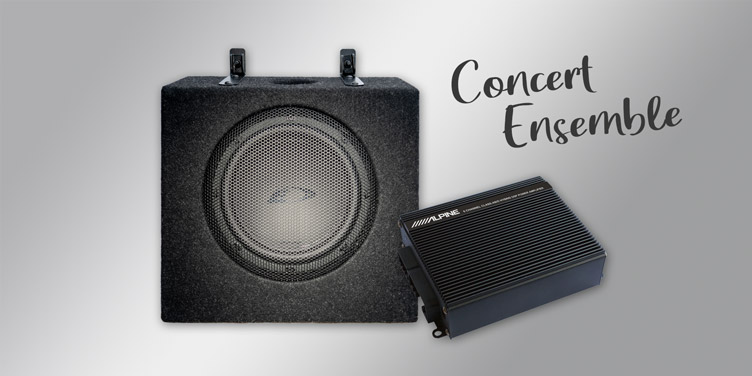 Upgrade To Adventure Audio: Concert Ensemble
Get the ultimate listening experience by upgrading your SPC-108T6 / SPC-106T61 /SPC-106T6 speaker system with the 550 Watts DSP amplifier & subwoofer kit SPC-D84AT6 for the Volkswagen Transporter 6.1 and Volkswagen Transporter T6. The DSP amplifier strongly increases the power output and dynamic of your Adventure Audio system and features vehicle-specific DSP sound settings and a plug-and-play wiring harness. Adding a 300 Watts dual voice coil 20cm subwoofer below the passenger seat in a sealed, custom fit enclosure results in rich, deep bass and an overall smooth and balanced sound experience. The subwoofer is also compatible with the rotary passenger seat in the T6 California.
Product Features:
20 cm (8") Dual Voice Coil Flat Subwoofer in Dedicated Enclosure
Installation kit included for Volkswagen T6 / T6.1
100w RMS Power Handling (Sub)
300w Peak Power Handling (Sub)
Compatible with a standard passenger seat and swivel seat of T6.1 / T6 California
550 Watt 6 Channel DSP Amplifier
Class AB (Channels 1-4) Class D (Channel 5+6)
Vehicle Specific DSP Settings & Wiring
Compatible Cars:
Volkswagen T6 California 07/2015 - 10/2019
Volkswagen T6.1 California 2019→
Volkswagen T6 Multivan 07/2015 - 10/2019
Volkswagen T6.1 Multivan 2019 →
Volkswagen T6 Transporter 07/2015 - 10/2019
Volkswagen T6.1 Transporter 2019 →
Volkswagen T6 Caravelle 07/2015 - 10/2019
Volkswagen T6.1 Caravelle 2019 →
Compatible with rotary seats and 2 person front bench.
Wiring harness designed for connection to original VW radio systems (high power input).
More Information

| | |
| --- | --- |
| Price | £549.99 |
| Manufacturer | Alpine |
| Vehicle Manufacturer | Volkswagen |