Product Description
Details
Designed for drivers
JVC made their KW-M730BT multimedia receiver for those who demand great sound, outstanding connectivity, and ease of operation. With Apple CarPlay® and Android Auto, this receiver lets you control many of your smartphone functions directly from its big, bright 6.8" resistive touchscreen. You can also enjoy a wide range of media options, like Pandora® and SiriusXM, and use the extensive sound shaping controls to get the sound you want.
Apple CarPlay®
CarPlay seamlessly integrates your iPhone into the driving experience, thanks to a slick interface that puts iPhone content right at your fingertips. You'll be able to access your music library, audiobooks, phone, messages, navigation, and many third-party streaming music apps, too. Learn more at www.apple.com/ios/carplay.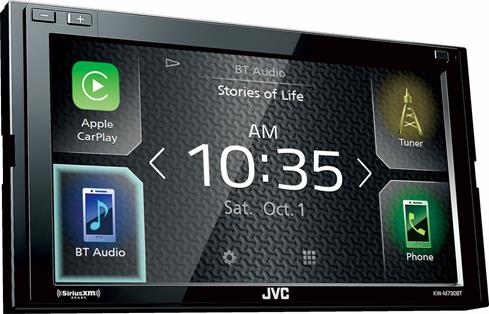 Works with Apple and Android smartphones
Android Auto
If you're an Android user, this receiver is ready for your phone, too. You'll love how Android Auto integrates the popular platform into the driving experience without distracting you from the job at hand — driving . You'll have easy voice access to Google Maps, weather, music, and apps, not to mention your text messages. And you can make calls, too, of course.
Built-in Bluetooth®
The KW-M730BT's built-in Bluetooth lets you enjoy wireless streaming for music, podcasts, and audiobooks, plus hands-free phone calls. You can install the included wired microphone close to you, so callers can hear you loud and clear. You'll also get voice control when pairing an iPhone with Siri. And this receiver can quickly switch between two paired phones, which is really handy when your vehicle is used by more than one driver.
Music, music, music
If you enjoy Internet radio on your iPhone® or Android™, you'll have a blast playing music from Pandora and Spotify through this receiver. If you're looking for radio stations that won't disappear when you head into the hills, add a SiriusXM tuner and enjoy satellite radio's rich selection of programs wherever you go. A highly sensitive AM/FM tuner will catch all your local stations.
Even more media options
Sometimes you want to hear your own favorite road mixes, and the KW-M730BT has you covered there, too. You'll find a rear aux input for a portable music player, and two rear USB ports that can handle your digital music files, as well as tunes from your iPhone or Android. This JVC will even play 192kHz/24-bit high-resolution audio files that you've loaded on a thumb drive. The display will show video when you're parked, and you can show video on the go to your backseat passengers if you add optional screens in back.
Customize your sound
Once you've chosen your tunes, you can perfect your sound with a vast array of sound controls, including a 13-band graphic equalizer and digital time alignment. JVC's K2 technology helps restore depth and detail to digital music from all sorts of sources. And, because most car speakers are located low in the doors, the KW-M730BT also offers Sound Lift, which adjusts your music's frequencies to virtually "raise" your speakers for better, more natural imaging.
Three pairs of hot 4-volt RCA preamp outputs provide an ultra-clean signal when it's time to add amplifiers to your system. JVC also includes variable color illumination and a customizable layout for the display, letting you pick the look that works in your dash.
Keep factory features with iDatalink Maestro
The KW-M730BT offers compatibility you won't find in many other aftermarket radios, thanks to the iDatalink Maestro module (sold separately). The module lets you keep factory features in your Chrysler, Ford, GM, Toyota, Fiat, or VW vehicle that you'd otherwise lose when you install a new radio. You'll also be able to check out expanded functionality on the JVC's screen, including gauges, climate controls, a distance sensor, and tire pressure and temperature monitors. It'll even integrate your stealth K40 radar detector into the stereo's display, so you can see and hear about incoming threats (coming soon).
Want to keep your steering wheel controls?
In most cars, you'll need an adapter to retain those controls with this car stereo. Connect a few wires, then program the adapter for your particular car and radio, and you'll retain the convenience of your steering wheel controls. You'll see the adapters that work with your vehicle when you add this receiver to your cart.
Product Features:
Monitor
Screen Size 6.8" Wide VGA
Touch Panel Clear Resistive
Monitor Touch Control
Customizable GUI
Key Illumination Color White
Dimmer
Multilingual Display [4]
Wallpaper Capture
Media Playback
MP3 Compatible with Tag USB
WMA Compatible with Tag USB
WAV Compatible with Tag USB
AAC Compatible with Tag USB
FLAC Compatible with Tag USB
DSD Compatible with Tag USB
H.264 Compatible USB
WMV Compatible USB
MPEG 1/2 Compatible USB
MPEG 4 Compatible USB
AVI/MKV Compatible USB
Bluetooth Control
Built-in Bluetooth[1] (Version 3.0, Wired-Mic included)
Hands Free Call (HFP1.6 Wideband Speech)
2 Phones Full-Time Connection
Audio Streaming & Control (A2DP, AVRCP)
Voice Dialing (voice recognition compatible mobile phone required)
Phone Book Access Profile (PBAP)
Alphabetical Search for Phone Book
Auto Pairing for iPhone/Android (iPhone only)
Android Control
Android Auto[2]
Spotify Control (via Bluetooth(R))
iPod/iPhone Control
CarPlay[3] (USB)
iPod/iPhone Music Playback (via USB or Bluetooth(R))
Spotify Control (via USB or Bluetooth(R))
USB
USB Port x2 (High Speed)
Position Rear (Cable Detachable)
USB Power Supply (1.5A High Current Charging)
Drive Change Mode for Mass Storage Class (selectable from internal/external memory)
Radio Tuner
Radio Broadcast Data System (RBDS)
Digital Processing Tuner
Preset Stations 20 (FM:15ch, AM:5ch)
Automatic Presetting (Strong Station Sequential Memory)
FM
Frequency Range 87.9 - 107.9MHz
AM
Frequency Range530 - 1,700kHz
Audio
Maximum Power Output (Front & Rear) 50W x 4
Full Bandwidth Power (Front & Rear) 22W x 4 (Full Bandwidth Power, at less than 1% THD)
MOS-FET Amplifier
EQ (13-Band Graphic EQ)
Preset EQ (8Preset + 4user)
Bass Boost
High-Pass Filter/Low-Pass Filter
3-Way X'over
High-Resolution Audio
K2 Technology
Space Enhancement
Sound Response
Sound Lift
Volume Link EQ
Time Alignment
Dual-Zone Function
Inputs and Outputs
AV Input mini jack
Video Out RCA
Second Audio Output Terminals
Rear view camera Input
Line Output Terminals (pair) 3 Pairs (Front + Rear + Subwoofer)
Pre-output Level/Impedance 4.0V / 10k ohms
Subwoofer Output with Level/Frequency Control
General
Back Up Memory
Face Type
Viewing Angle Adjustment (0 - 20 degree, default : 0 degree) 4steps
Wireless Remote Control Ready (RM-RK258 required)
Steering Remote Control Ready
iDatalink Maestro Ready
Dimensions (W x H x D)
Installation Size 7-1/16" x 3-15/16" x 6-2/16" (178 x 100 x 155 mm)
Related Products:- Click links
Double Din Facia Panel
Headunit Fitting Kits
Steering Wheel Interfaces
Veba AVDVBTMP4 - TV Tuner
JVC KS-U30 Play iPod and iPhone™ audio/video through select 2008-up JVC receivers
Additional Information
Additional Information
| | |
| --- | --- |
| Manufacturer | JVC |
| Country of Manufacture | |
| Price | £449.99 |
Reviews
Product Tags