Product Description
Details
The right material for the right sound
Focal PS 165 FX FLAX CONE / 6''1/2 / 2-WAY COMPONENT KIT: this 6''1/2 woofer has the new flax cone for a neutral sound without coloration, more dynamique, natural reproduction hung by a Butyl surround with an excellent reliability. The phase plug in the center of the cone also offer a better dispersion than the PS 165 F woofer.
Focal continuously searches for materials that allow them to produce some of the most accurate speakers in the world. This time, Focal found that flax fibers help create a very rigid, lightweight cone for their speakers. With half the weight of fiberglass, the hollow flax fibers are woven and sandwiched between thin glass membranes. Mounted to a sturdy aluminum basket, you'll enjoy a lively and accurate speaker that resists unwanted vibrations.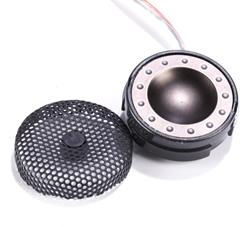 Focal's inverted dome tweeters deliver natural highs for your music.
A detailed soundstage
Focal's Expert Series PS 165FX component speaker system combines these innovative flax 6-1/2" woofers with their renowned inverted dome tweeters and versatile crossovers. The inverted dome tweeters act like little woofers, dispersing the highs in a wide pattern to create an exceptionally natural soundstage. Focal includes two options for surface-mounting the tweeters, or you can flush-mount them for a more discreet look in your car.
Distributing the frequencies
Focal uses their crossovers to effectively create open and natural imaging for your music. The PS 165FX crossovers include tweeter and midrange level adjustments that let you create an ideal blend of the highs and lows for a dynamic stereo image in your car. And these crossovers are bi-ampable, if you want to further customize your sound by using separate amps to power the tweeters and the woofers.
Processed Aluminum/Magnesium inverted dome tweeter for smoothness and definition without directivity. The tweeter is equipped with the new poron suspension for long life.

The speakers are plugged to a powerful bi amp crossover.
Product Features:

WHAT MAKES THE DIFFERENCE
High power handling
Very low deep bass
All the last high technologies
BI AMP system (special crossover)
Unic and patented FLAX cone (N°1350116)
A new sound for a new 100% Focal signature
Technical Specifications:
Nominal power 80W
Maximum power 160W
Sensitivity (2,83V/1m) 91,3dB
Cone Flax
Surround Butyl
Nom. impedance 4 Ohms
DC resistance 3 Ohms
VC diameter 32mm 11/4"
VC height 15mm
Former Kapton
Layers 2
Wire Alu
Inductance
Xmax 5mm 03/16"
Magnet d x h 90mm x 17mm 39/16 x 02/3"
Magnet weight 400g 0.88 lb
Flux density -
Gap height 5mm 03/16"
Net weight 1350g 2.98 lb
What's in the Box:
Two woofers
Two inverted dome tweeters (with attached 21" length of speaker wire)
2 Tweeter flush mount cups
2 Tweeter angle mount cups
Tweeter removal tool
2 Crossover networks
2 Woofer grilles
2 Woofer grille mounting rings
2 Tweeter flush mount clamps
2 Woofer mounting gaskets
8 Speed clips
2 Machine screws (for flush mounting)
Four 3/4" Self-tapping screws
Eight 1-1/8" Self-tapping screws
Owner's manual (English/ French)
Focal window sticker
Serial number card
Additional Information
Additional Information
| | |
| --- | --- |
| Manufacturer | Focal |
| Country of Manufacture | |
| Price | £269.99 |
Reviews
Product Tags